Celebrity
Selena Gomez Gets VERY Candid About Self-Love, Therapy, And Spending Time Alone – Perez Hilton
Selena Gomez is slowly but surely opening up to the world again.
Appearing on Coach's new Dream It Real podcast this week, the 26-year-old shared her thoughts on self-love, authenticity, and told listeners more about why she stepped away from the spotlight for the majority of 2018.
As you know, Selena reportedly suffered an "
During the 30-minute conversation released on Wednesday, Selly gets candid about the many ways that therapy has helped her understand herself "a lot better." In fact, understanding is something that Selena wishes she received more of from fans. She explains:
"I don't really think that people know my heart. I think that sometimes people may think that I politically say the right thing or I'm safe or I've been trained to speak this way. I don't know how to be trained, like how on earth would somebody be training me to speak things?"
It sounds like the Wolves singer is taking direct shots at the naysayers who believe she's nothing a PR-trained talking piece. Hmm, this might be why she has been so tight lipped as of late…
Gomez continues, and admits she isn't exactly a fan of the aspect of celebrity culture, which feeds into being judged on your looks:
"I think that a lot of people don't understand my heart, you know? And I also don't like that, it can be sometimes about appearance too. I don't really appreciate people judging me on my looks, or anything like that."
She explains further, reiterating that what's most important to her, is true love and acceptance:
"I just think that the world today, with so much exposure to everything…it's great to dress up and to feel beautiful and to do those things, but…and I'm flattered when, maybe, guys are like, 'You're pretty.' I am, it's just not…I would just love someone to love me for the person that I am."
We love you just the way you are, Sel!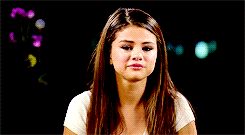 Justin Bieber's ex takes a moment during the episode to acknowledge how the time alone, away from the spotlight, did wonders for her personal growth:
"Last year, I took a lot of time off. I think that I needed a moment to myself because I do feel like I was growing and changing."
Keeping in line with the episode's theme of authenticity, the Taki Taki singer offers some very real advice that she wishes she could give to her younger self:
"Gosh, if I knew what I know now. No, you know, I think it's…I am a believer of therapy. So, I think that I have had opportunities where I kinda reflect on the younger me, and I think that a lot of the times I wished that I could hug my younger self. I wish I could have done and experienced a lot of things, maybe, a little differently. But, I…I go to therapy."
As for this upcoming year, don't plan on shipping Selena with anyone! Instead, just wait patiently for new music (not a new man!) on the way:
"I'm looking forward to my album and I'm looking forward to spending time alone. I think I'm finally, finally, finally at the age where I love being alone."
Wow. We are loving the vulnerability gurl.
If you're itching for more candid conversations like this — with upcoming guests like Michael B. Jordan and Maisie Williams — subscribe to Coach's podcast HERE.
Thoughts on Selena's interview?? Sound off below in the comments!
[Image via Selena Gomez/Instagram]
Read more: https://perezhilton.com/selena-gomez-candid-interview-coach-dream-it-real-podcast/