Celebrity
Joe Giudice's Pardon Request 'Has Not Reached' Donald Trump, Says Source! – Perez Hilton
Joe Giudice's chances of staying in the United States are getting slimmer by the second.
As
The Real Housewives of New Jersey star was taken into ICE custody after he was released from prison, serving a 41-month sentence for mail, wire, and bankruptcy fraud. He moved to the U.S. when he was a young child, but never completed his naturalization to become an American citizen.
Though his family has publicly pleaded President Donald Trump to pardon the patriarch, a source familiar with the administration's thinking said Joe's case is not even on their radar.
Per People on Wednesday:
"This has not reached the White House… If it was worth it on the merits, this would be something, but just because [the Giudice family] is asking…"
The insider — who noted that Trump will not necessarily look at a pardon request just because the person is famous — also added:
"Thousands of people have through different means tried to bring different cases [to the White House]… The vast majority of them just don't warrant the decision."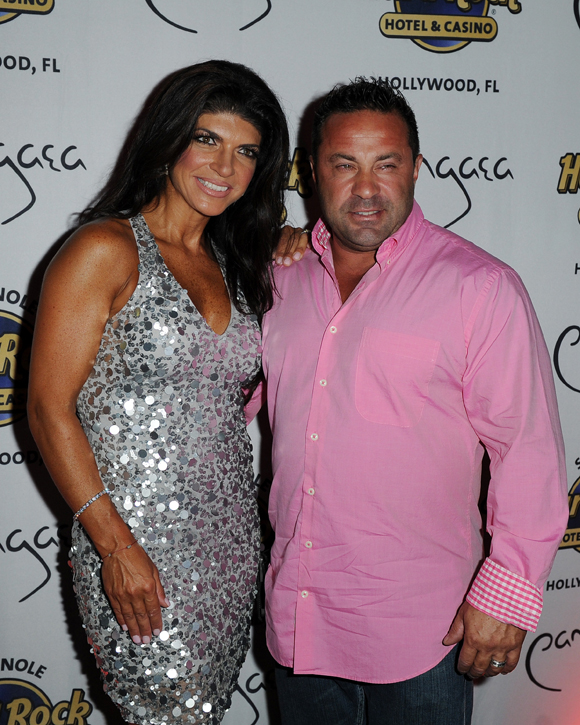 Last week, on behalf of her family, eldest daughter Gia Giudice (18) created a petition hoping to get the President's attention.
It read:
"[Joe Giudice] knows nothing of Italian culture, laws, societal norms, he has no immediate family and will not be able to secure work in this foreign land. My father is not a danger to society, he is a warm loving man and I beg you sign our petition to give my father a second chance at being part of our lives and giving back to the community we live in once a again [sic]… We request that our President, Donald J Trump review our petition and pardon my father to relieve him of this life sentence the courts are bestowing on him, yes in Italy he will no longer be incarcerated but will he ever be free if kept from his family and be able to be a productive member of society?"
In a February 2016 episode of Watch What Happens Live, Teresa — who appeared with the businessman on Celebrity Apprentice — told Andy Cohen that she would vote for Trump as he would make a "great President."
During the recent RHONJ reunion, the Housewife confirmed to Cohen that she would leave her husband if he is deported back to Italy:
"I'm not doing a long distance relationship. I'm not doing it… I want somebody with me every day… I know exactly what happens — I'm sure he'll be with other women. It happens… You do the long-distance thing, it's not going to work. I'd be like, 'Bye bye.'"
While referencing her four daughters with Joe, Teresa also remarked:
"Unless my kids say, 'Mommy, I want to move to Italy.'… Gia's going to college next year; I haven't spoken to Milania (13) or Audriana (10) about it, we haven't gotten there yet; and Gabriella (15) already voiced her opinion to me. She was like, 'That would be so hard for me, Mommy.' She doesn't speak the language. She's like, 'That would kill me even more.' It's like starting a whole new life, and they've been through so much already.'"
Yikes!
[Image via Joel Ginsburg/WENN.]
Read more: https://perezhilton.com/joe-teresa-giudice-white-house-pardon/